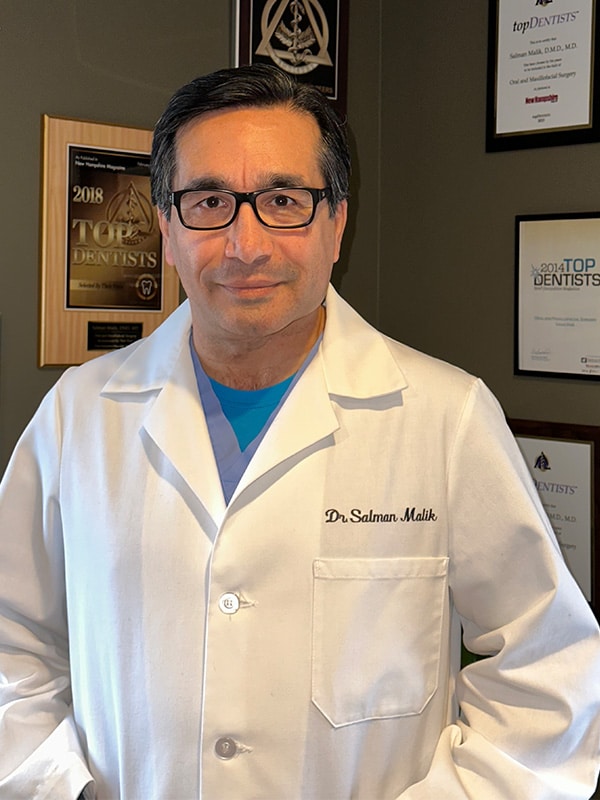 ---
Whether you are here for a tooth extraction, a dental implant, or a biopsy, rest assured, we will take good care of you. Dr. Malik understands what it's like to be a patient. He has been a patient himself.
During a routine dental exam, a tumor was discovered in his mouth, requiring a resection of his jaw and removal of teeth. Because of his experience, he understands what it is like to be a patient - the anticipation and the anxiety.
He is happy to share what he went through and answer any questions you may have.
Dr. Salman Malik received his dental degree from Harvard School of Dental Medicine and his medical degree from Stony Brook School of Medicine. His surgical training was completed at Long Island Jewish Medical Center.
Dr. Malik is board certified by the American Board of Oral and Maxillofacial Surgery and the American Dental Society of Anesthesiology. He is a Fellow of the American Association of Oral and Maxillofacial Surgery and certified in advance cardiac life support (ACLS) and pediatric advance life support (PALS). Dr. Malik is one of the few oral and maxillofacial surgeons who is licensed both in dentistry and medicine in the state of New Hampshire.
Dr. Malik has served on multiple non-profit boards, including The Derryfield School and Londonderry Rotary. He is currently on the faculty of New York University School of Dentistry, teaching dental students. Over the years, he has participated in many local and international outreach programs, providing dental care to the underserved.
He is an avid hiker and married with three children.
---